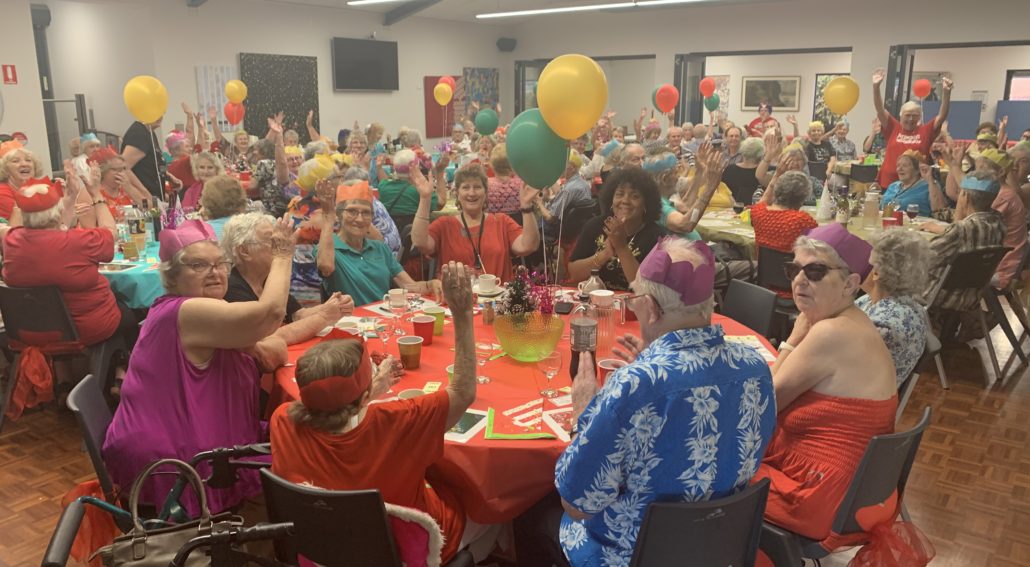 The Greendale  Centre has hosted many fun Christmas events this week.  Our Final Pub Grub for 2019 at the Jarrahdale Tavern, Friday Morning outing to Patsy Durack's rose gardens.  The spectacular Christmas lights in Byford and surrounding suburbs were something to behold for our bus-load of festive Patrons.
The Christmas celebration at the Centre was also a big hit today, with the beautiful Christmas lunch catered by Catercare. A fantastic buffet-style lunch was then served up, courtesy of the Volunteering team. Both patrons and volunteers alike were decorated with baubles, tinsel, and their brightest Christmas shirts. Christmas music was provided by our wonderful "Mike the Music Man" and his wonderful off side Jan.
Well done once again Geoff and team for a brilliant effort and thank you for a year of wonderfully catered events and the day to day quality of meals have been outstanding. Thanks also to Cater Care for our wonderful hamper for the Lucky door prize which was won by our newest resident to Dale Cottages and he was so excited.
No of this would be possible, without our dedicated team of volunteers who work so hard and each and every event, so thank you to all our wonderful volunteers
Merry Christmas to all the patrons, volunteers and staff who make The Greendale Centre just a fun place to be!