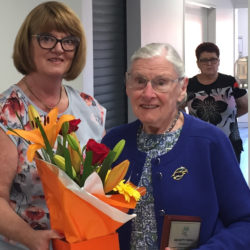 Dale Cottages Congratulates our Long Standing Residents
At our Village AGM held in November 2018, special recognition was awarded for Village Residents who have lived in the Dale Cottages Village for 20 years or more.
Dale Cottages congratulated three of our residents who have each lived here for 20 years and one resident for 30 years! One of these ladies is Mrs Betty Thomas. Dale Cottages Board President, Mrs Carol McGurk presents Mrs Thomas with a commemorative plaque and flower to celebrate this wonderful event.
We congratulate each of our long standing residents and thank them for their years at Dale Cottages.