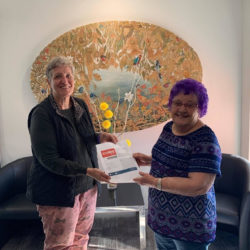 Dale Cottages would like to say a very big CONGRATULATIONS to our wonderful volunteer Marj, who has been awarded a Kleenheat Recognition Award.
Nominated by her fellow village resident and friend Gail, in recognition of Marj's ongoing commitment to helping others through these challenging times.Marj has been serving meals to our village residents and the local community at The Greendale Centre for such a long time now, including the takeaway meals during the Covid-19 restrictions.
Well done to both ladies! What a great way to show support for each other.