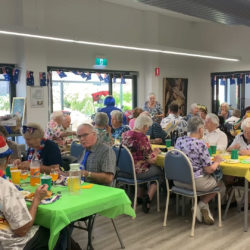 Australia Day Celebration & Bushfire/Drought Fundraising Luncheon
On Friday the 24th of January 2020 the Greendale Centre held a fundraising quiz luncheon to raise funds for those affected by bushfires and drought. The day was a huge success and many thanks must go to our wonderful quiz presenters Ray and Carolyn who put together the quiz, donated there time and some wonderful prizes. Catercare once again provided a meal that was outstanding and so yummy. Thanks, Geoff and his team from Catercare for another brilliant meal.
We had lots of donations of goods and services for the day and many thanks must go to all our sponsors, Cater Care, Smokey Joes, Classic Commercial Clean, Dale Cottages and all the wonderful residents and community members who generously donated to our wonderful cause.
The day would not have been a success without the hard work from our wonderful volunteers who spent many hours setting up, serving, assisting with games and cleaning up afterwards. Thank you to all our l volunteers.  We are pleasantly surprised by everyone's generosity and the funds will be appreciated by those affected by Australia's recent droughts and bushfires.
Happy Australia Day